Advent...Celebrating the Birth of Christ.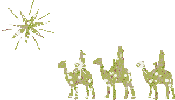 Advent...Celebrating the upcoming birth Of Christ. It is celebrated all over the world, in many different religions, and in many different ways. We give you here our way of celebrating..a Christmas Tree, with 25 snowflakes to be clicked on, starting 25 days before Christmas. One snowflake for each day will tell you how many days remain to Christmas, or if you can't wait check the Christmas countdown clock. There is a little present under each snowflake from us to you,and you can take it home should you choose to.
Start with snowflake 25 and work your way down the numbers till Christmas, on Christmas come back as there will be a very special gif awaiting you, and we won't allow peeking...



















Christmas
Index